I see a lot of my fellow bloggers giving each other awards for various things. That's fine, but I've been wanting an award with real substance--something I can really get behind and feel proud about. That's why I came up with my own award (see right side of my blog screen).

But why keep this to myself when I can share it with the rest of the world. Feel free to give this award to yourself...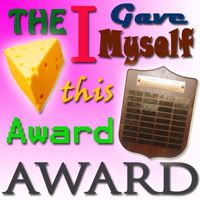 If you want to give credit to me for creating it, fine. If not, who cares. Give yourself an award--you deserve it.